News & Events
Enjoy our selection of true stories
Grants now available for Winter and Spring 2023
1 February 2023
It was brilliant to be joined by almost 200 charitable organisations yesterday for our Grant funding Webinar. It is always inspiring to see the faces of so many people who give up their time to help others. Thanks for coming along.
Both grants programmes are now open and welcoming applications/expressions of interest. 
The Winter Warm Spaces programme is offering a total of 40 grants for £750, restricted to covering the increased costs of providing a warm space for older people to connect and engage.
The Spring Community Grants offer funding up to £7500 for programmes or organisations helping older people to be valued, engaged and connected. We particularly would like to hear from organisations in East Anglia/Lincolnshire/East of England and Wales.
A copy of the webinar slides can be found below by clicking on the image.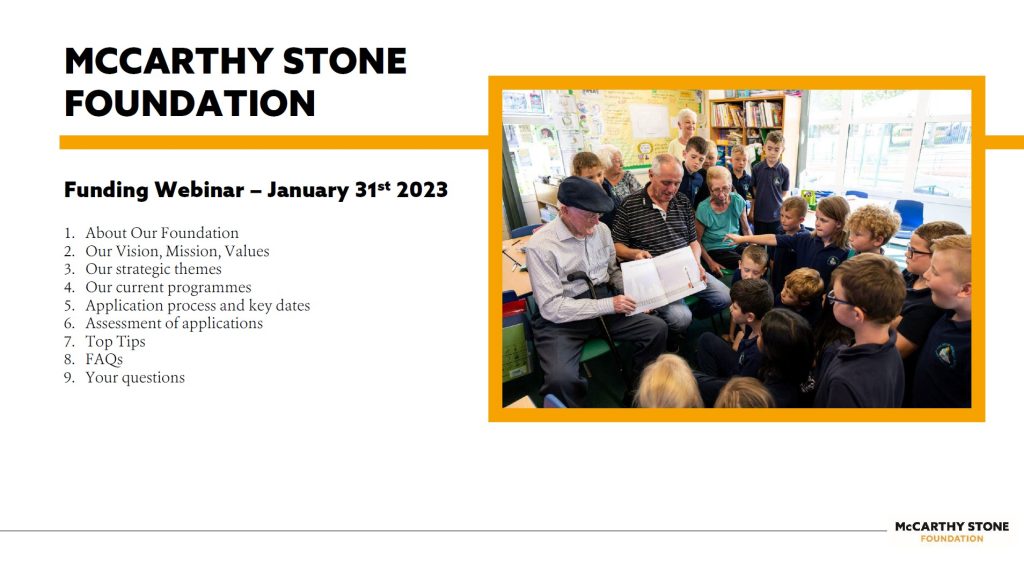 To apply for one of our 'Winter Warm Spaces' grants please complete the application form AT THIS LINK.
To complete an Expression of Interest for one of our 'Spring Community Grants' please complete the form AT THIS LINK.
Organisations MAY apply for both programmes, but will only be awarded for one.
'Winter Warm Spaces' will run to the end of February, while the Spring Community Grants Expressions of Interest will close on the 15th Feb.
Thanks and hope to hear from you soon,
G
---