News & Events
Enjoy our selection of true stories
£250 Awarded to Estuary League of Friends
19 April 2021
We are really pleased to be able to grant £250 to the Estuary League of Friends in Devon to support the Topsham Memory Cafe.
The Estuary League of Friends is a grassroots charity that was founded by local people volunteering to help neighbours in need. Their work in the community, driven by a fantastic base of volunteer support typifies the sort of charity that our Foundation looks to support. Many of the League's service users are vulnerable, and the charity has been at the vanguard of local community response to helping those people stay safe, supported, and well.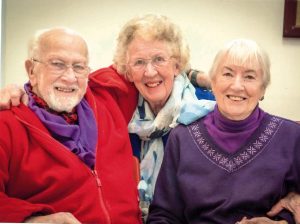 Our small grant award will help the charity to reopen their local Friendship Cafe in May once restrictions ease, helping to benefit local people experiencing memory loss, living with dementia, or looking after someone living with dementia. This valuable service provides a range of benefits and activities, accommodating up to 26 local people at each fortnightly session.
Community charities like this have formed an essential part of the response to Covid-19, often being the only lifeline for isolated and vulnerable people in rural communities. We hope to continue working with the Estuary League in the future, and look forward to an update in the Summer on their work.
---